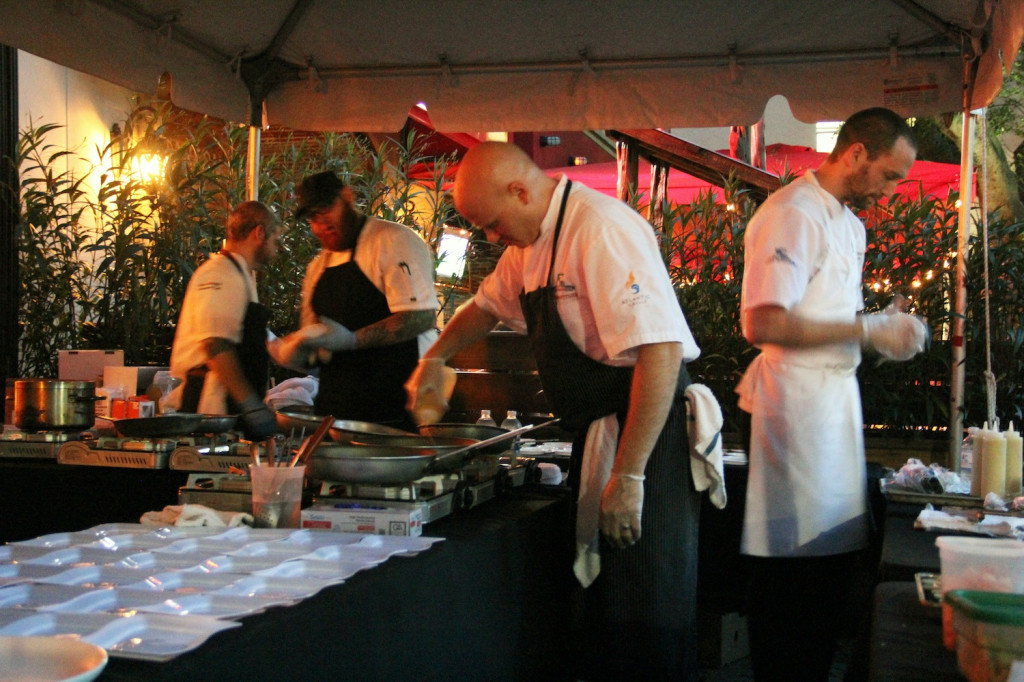 FEAST OF THE SEA CROWNS CHEF ADAM GOTTLIEB OF ATLANTIC GRILLE
WINNER OF 3RD MAESTRO DEL MAR CHEF CHALLENGE
Chef Adam Gottlieb of Atlantic Grill wins 3rd Maestro del Mar Chef Challenge hosted Wednesday at Salt 7 in promotion for Feast of the Sea, Seafood Festival coming to West Palm Beach.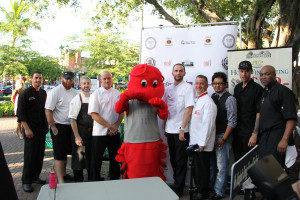 Feast of the Sea (www.feastofthesea.com), a free general admission seafood festival reaching port on September 13th in West Palm Beach, Florida held their 3rd Chef Challenge July 23rd and awarded Chef Adam Gottlieb of Atlantic Grille winner.
The 3rd Maestro del Mar Chef Challenge was held at Salt 7 in Delray Beach and featured Chef Bruce Feingold of Dada. He began the night with mouthwatering panko crusted Mahi with a Coco Lopez drizzle with fennel and red peppers. Next was Chef Chuck McCann of Salt 7 who featured a delicious pan seared Mahi paired with a sushi roll over cauliflower puree, and adding to the mix was Chef Philip Petullo of Vic & Angelo's who served his amazing pan seared Mahi over a corn medley and our winner, Adam Gottlieb of Atlantic Grille took the crown with his pan seared Mahi on braised potatoes with sous-vide artichoke hearts, tomato confit, sweet pea powder and kalamata olive spheres.
Carlos Fernandez, Top Chef Season 2 finalist was among the judges with Pam Perets, Associate Store Manager at Williams-Sonoma at The Gardens Mall and rounded out the panel was Dean David Pantone of Culinary Education at Lincoln Culinary Institute.
Chef Adam Gottlieb will join Edwin Bermudez from Nick & Johnnie's, Chef Eugenio Santucci from Ristorante Santucci and the next winner of the upcoming Chef Challenge on September 3rd for the finale and crowning of the Feast of the Sea's Maestro del Mar.
COMING UP
The 4th Maestro del Mar Chef Challenge is taking place on August 17th at Williams-Sonoma at the Gardens Mall in Palm Beach Gardens. Visit http://feastofthesea.com/maestro-del-mar for more information.
–
Hosted at SALT7, the chefs were joined by Onli Beverages, Due South Brewery, Saltwater Brewery, Sea Delight Ocean Fund, Tito's Vodka, Edible Palm Beach, and the crew of "Last Round," a new TV series among others..
Here are some photos from the evening!
The following two tabs change content below.
Cristyle is a South Florida native, born in Miami and raised in Palm Beach. Her love of food came through her travels and seeing how cuisines differ and relate so much. She attended the University of Florida, had a short stint in Charlotte, NC and is now back home - ready to eat her way through Palm Beach County and share her findings with locals and visitors alike. From brunch to happy hour to foodie events, she's got you covered!